About Sterling Silver Cutlery
Sponsor's or manufacturer's mark. Originally it was used to identify the silversmith or goldsmith responsible for making the article. The initial letters of their Christian name and surname are used. In the case of partnerships and companies, today it generally consists of the initials of one or more of the partners and in the case of a limited company the initial letters are used.( SES- Samuel Eales Silverware of which Inkerman Silver is the trading name)
The fineness mark for this is the numeral 925 expressing the standard as parts per thousand and the elliptical shield indicates silver.
The Yorkshire rose, the official symbol of the Sheffield assay office. All Inkerman Silver's items are assayed here in Sheffield.
The lion passant- traditional symbol of 92.5% quality sterling silver.
This date letter denotes the year in which a piece was made and hallmarked. This changes on the 1st January each year.
Sterling Silver
The marks denote that each piece has been independently tested by the official Sheffield assay office. Therefore, it conforms to the legal standards of fineness or purity.
Traditionally, sterling silver is the finest material for cutlery, guaranteed to last a lifetime. Inkerman Silver cutlery is beautifully crafted and finished to the highest quality, using traditional hand polishing methods. Sterling silver cutlery is designed to be used. It possesses inert properties that make it practical and aesthetic qualities that make it the most desirable of table top accessories. With regular use silver cutlery displays a most attractive 'patina', which is an optical effect, created by the multitude of very fine scratches that develop during normal use.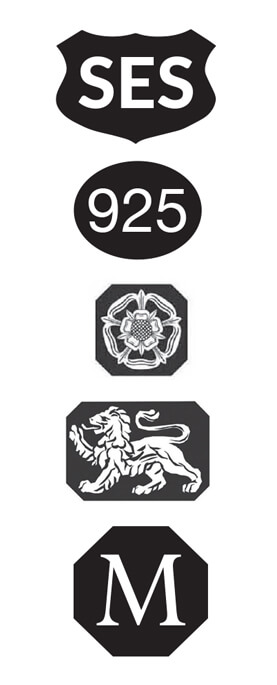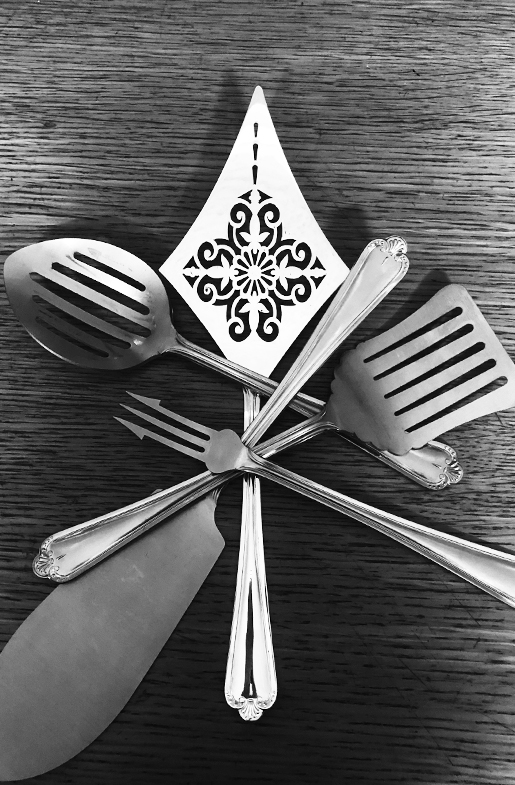 About Electro-Plated Nickel Silver
EPNS (Electro-Plated Nickel Silver) cutlery features a layer of pure silver which is deposited by the process of electrolysis onto a nickel alloy, traditionally known as 'nickel silver'. Over a period of time, silver-plated cutlery will also display the same aesthetically pleasing patina characteristic of sterling silver cutlery.
EPNS KNIFE
The knife is of superior quality and is made of two component parts.
a) The blade is "hot forged" from superior grade stainless steel, as silver is too soft for this purpose.
b) The handle is composed of silver-plated "nickel silver".
When choosing cutlery it is important to choose a design that is comfortable to hold.
We ensure that our knives are well balanced. The weight is contained in the handle in order to balance the knife in the hand and this prevents the knife from tilting towards the table. As with all superior quality cutlery, the blade and the handle of the Knife are two separate pieces cemented together to give extra strength.
Each individual piece of an EPNS knife is hand polished to give the ultimate finish.
EPNS Spoon and Fork
The base material for the spoon and fork is "nickel silver". Nickel silver is a copper alloy formulated from 64% copper, 24% zinc and 12% nickel. The following benefits are derived from nickel silver:
a) Nickel silver allows for better adhesion of silver-plate thus giving longer life.
b) Less expensive alternatives are sometimes used such as stainless steel silver plated which in turn may give rise to poor adhesion and result in quality issues.
c) Nickel silver has a greater value than alternative variations.
d) Nickel silver allows for a clear definition of pattern.